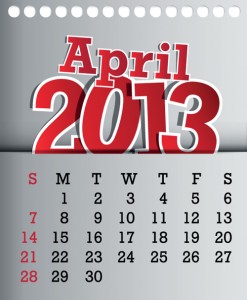 Every month – at least in 2013 – I keep track of my expenses and income down to the last penny. April turned out to be the most-expensive month to date, mostly because of taxes and some dental work. My savings rate suffered as a result, though at just under 50%, I can't beat myself up too much about it.
I challenge you to keep track of your spending, even for just a month. You can use my amazingly detailed finance tracker (Google spreadsheet). The numbers are revealing, and sometimes terrifying. Speaking of which, let's do the numbers.
| Expenses | Amount | Comments |
| --- | --- | --- |
| Groceries | $145 | About average |
| Utilities | $117 | Trash plus electricity |
| Mortgage + Escrow | $1,014 | |
| Internet | $15 |  AT&T promo rate |
| Cell Phones | $93 | Two Sprint SERO plans |
| Rental House | $779 | Mortgage, Escrow, and yard-work |
| General Merchandise | $162 | Mostly Costco |
| Gasoline | $280 | $200 of this was bought on a gift card |
| Life Insurance | $62 | Two term policies |
| Restaurants | $61 | Higher than average |
| Dental | $266 | Paid for two cleanings |
| Taxes | $241 | Federal plus Kansas taxes |
| Total | $3,235 | |
April was our most-expensive month so far this year, and I admit that it caught me off guard. Namely, we had to pay taxes, and while this shouldn't be a surprise, I had expected a small refund since for the first time we were eligible for the child tax credit ($1,000). While we did receive the credit, our total income for 2012 was the highest it has even been – a high enough total to phase us out of the retirement contribution credit (also for the first time). In other words, we earned a lot, and the child tax credit was not enough of a counter-balance to provide a refund. First-world problems, I know, so no complaints here.
Otherwise, I paid for two dental cleanings, which should cover me for the rest of the year. We also spent $280 on gasoline, though this number is artificially inflated. My local grocery store (HEB) offered a 12-cent discount per gallon on gas if you pay for it using an HEB giftcard. So, we bought a $200 giftcard, which will be used exclusively for gasoline. Our May fuel numbers should be lower by comparison.
Here's the income side of the equation:
Income
Amount
Comments
Salary
$4,356
After taxes, health insurance, and 403(b) reduction
Rental Income
$835
Freelance
$55
Taxable Dividends
$85
Retirement Dividends
$70
Royalties / Web
$249
Total
$5,650
Our total income was lower than in March, though some of that is to be expected as April was not a dividend month. Still, I received a payout from the few GE shares that I own, plus a muni-bond fund dividend and a pathetic smattering of bank interest.
Our rental house in Kansas dutifully doled out its monthly paycheck. I keep waiting for a major repair to happen, such as an A/C replacement, but nothing so far. My book royalties  and online income paid out more than expected. Given the variable nature of this passive income, anything above $0 is great as far as I'm concerned.
Savings Rate
Using the above figures, my savings rate from April is 42.7%, our second-lowest rate to date. When I factor in my automatic 403(b) contribution and employer match, it gets a healthy boost to 48.6%.
I suppose I shouldn't kick myself for allowing the rate to drop below 50%. After all, we only earn one full-time income and have a new baby at home to boot, but there's something about the magical 50% hurdle that makes me brood whenever we come up short. Oh well. I'll have to get used to it since my wife is quitting her part-time teaching job at the end of May to stay at home with our son, so it may be a while before we once again leap over the 50% barrier.
Here's to a healthy and prosperous May!