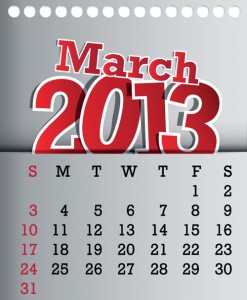 Every month during 2013 – as part of my New Year's resolution – I am keeping track of my monthly expenses and income. March turned out to be the best month yet: despite a long driving trip to visit family during spring break, the IM family's savings rate was the highest we've seen so far.
Keeping a detailed list of all expenses is eye opening, as it shows you exactly where all your money is going. I encourage everyone to give it a shot, at least for a month. You can use my badass expense tracker (Google Spreadsheet) to help.
Let's do the numbers.
| Expenses | Amount | Comments |
| --- | --- | --- |
| Groceries | $89 |  Lower than average |
| Utilities | $45 |  Artificially low since I pre-paid water back in January |
| Mortgage + Escrow | $1,014 | |
| Internet | $15 |  AT&T promo rate |
| Cell Phones | $93 | Two Sprint SERO plans |
| Rental House | $779 | Mortgage, Escrow, and yard-work |
| General Merchandise | $367 | Mostly Costco; a little Amazon |
| Gasoline | $400 | Ten tanks (Family trip) |
| Life Insurance | $62 | Two term policies |
| Restaurants | $28 | Pizza is delicious |
| Dental | $180 | Paid for two cleanings |
| Travel | $69 | One hotel room |
| Total | $3,141 | |
Holy smokes! $400 on gasoline in one month? You bet'cha, but at least we didn't burn all of it commuting to work. For spring break, we tossed our four-month-old baby in the car and drove from Texas to Georgia to visit family. Both my wallet and my ears took a beating, but it was worth it. My father had yet to meet his own grandson, and seeing his face light up as he held his grandson for the first time made it all worthwhile. We'll probably repeat this trip in June, but money spent on gas should drop considerably before then.
Despite the long road trip, our grocery and restaurant expenses were still remarkably low. Mrs. IM packed all the food for the trip in the car, so we didn't dine out at all on the road. And we still managed to spend under $100 at the grocery store! I mean it when I tell her that I found the best wife ever. 🙂
Here's the income side of the equation:
Income
Amount
Comments
Salary
$4,356
After taxes, health insurance, and 403(b) reduction
Rental Income
$835
Freelance
$310
Taxable Dividends
$404
Retirement Dividends
$284
CC Cashback
$200
Total
$6,389
March was a dividend month, so our total dividends got a nice boost. For the first time in this series of posts, I decided to go ahead and include Retirement Dividends in the tracker. These are dividends from my 403(b) and our IRAs. I excluded them before, but finally opted to no longer discriminate against any dividends regardless of tax status. If we earned them, they deserve to be counted. We're now ahead of my self-imposed goal of earning an average of $100 monthly in taxable dividends for the year.
Our rental house in Kansas continued to deliver its standard paycheck. There are a few (hopefully minor) repairs on the horizon, so these earnings might be diminished in future months. For now, I'll continue to take what I can get. We're planning to move back to this house one day, so we want to keep it in good shape.
Credit card cashback was far higher than usual, due to a targeted $150 sign-up bonus offer my wife received recently from IBC Bank. She got the card, fulfilled the required purchase, then chucked the card in the sock drawer, where it will fade to deserved obsolescence unless she receives another bonus promo.
Savings Rate
Our expenses were the highest recorded for the year so far, due to that family road trip. On the other hand, our income was also the highest we've yet received for the year. Using the above figures, this puts our savings rate at 50.8%. If I add in my automatic 403(b) contribution (plus employer match), it boosts my savings rate up to a magnificent 55.39%. That's a nice number to see – despite our expensive road trip, we still managed to sock away well over 50% of our income. If I played various accounting tricks, such as counting the principal portion of our two mortgage payments as savings, I could nudge the percentage even higher, but I don't feel like going down that road.
I'm always happy to see a savings rate above 50%, especially since my wife and I only earn one full-time income. My wife is planning to quit her part-time teaching job at the end of May in order to stay home and take care of our baby, which means that our total income will drop in coming months. Even so, I fully expect (and hope) that we will continue to save 40%+ of our earnings.
Here's to a happy and healthy April!