Remember the days when banks were actually trying to compete for deposits by raising interest rates on savings accounts? Nope, I don't either. 🙂
I opened an account with FNBO Direct back when they were paying a glorious 6% on their online savings account. Those days have long past, and once their rate started plummeting, I siphoned out all but a single penny. Yesterday, it dawned on me that I have not touched that account since mid-2008. I wondered about my lone penny and whether or not FNBO had claimed it and closed my account for inactivity.
Nope. My penny was still there, lonely as ever. I decided to go ahead and close the account.
Fortunately, FNBO Direct makes it simple to close an account online. Once you have logged in, look for the Contact Us link (currently near the bottom left of your account).

On the page that loads, you should then see a link for Account Closing Request. Follow that link, and then you will have to complete a short questionnaire that includes an address verification, your reason for closing the account, and how you would like FNBO to disburse any remaining funds to you.
They didn't have a field in which I could manually tell them to keep my blasted penny. Ridiculous as it may be, I opted for a cashier's check. Believe me, I'm going to chuckle pretty hard when I see a cashier's check for $0.01.
Here's a screenshot of the closing questionnaire: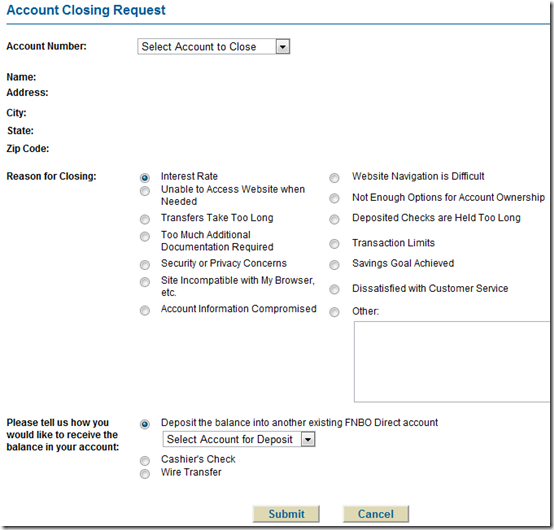 For the record, I chose Interest Rate as my primary reason for closing. If enough people do that, maybe the plight of the savers will be clear.
That's all there is to it, and I appreciate how easy FNBO makes it to close an account.