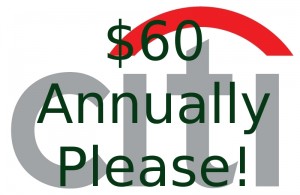 If you have a credit card from Citibank, keep an eye on your mailbox because Citi has recently implemented a $60 annual fee for many of their cards. Citibank – the same too-big-to-fail monstrosity – the same company that accepted taxpayer bailout money and subsequently jacked up interest rates across the board – yeah, that company. Not content with the cash they've already wrung from the taxpayers, they have now tacked on this $60 fee to many cards that previously had no annual fee. However, Citi will generously refund the $60 if you spend $2,400 per year on the card. Wow, thanks for nothing, Citi.
Thanks to a reader named Bill for pointing this out to me. Several different cards are apparently affected, including:
Citi AT&T Universal Card
Citi Diamond Preferred Rewards Mastercard
Citi Dividend World Mastercard
Citi Dividend AMEX Card
Citi Drivers Edge Card
Citi Home Rebate Mastercard
Citi mtvU Student Card
Citi Platinum Select Mastercard
There may be others as well, so be sure not to throw away any junk mail from Citi without reading it carefully. I have four credit cards from Citibank, though the only one mentioned in this list is the mtvU. So far, I have not yet received a letter, but we'll see if it arrives in the mail anytime soon. I'll be sure to update this post if it does.
Citi's addition of this annual fee is a bid to do two things:
Get people to use the cards more often, thereby generating more revenue for Citi.
Squeeze even more cash from the taxpayers who saved their butts in 2008.
You can read about more people's experiences on this Sickdeals thread and this Fatwallet thread. Here is a scan of a letter from Citi, compliments of the user unsmart3d on SD: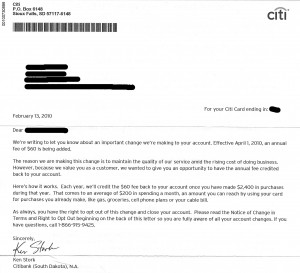 My favorite part:
The reason we are making this change is to maintain the quality of our service amid the rising cost of doing business.
Cough, cough… BS! Wow, they're really laying it on thick and heavy. Anyway, I don't mean to give Citi too hard a time. After all, it's perfectly within their rights to impose an annual fee on all of their cards if they want. They can choose to do business that way. No one is forcing us to use Citi credit cards… and as consumers, it's within our rights to call and cancel our accounts if we receive one of these letters! We can choose to take our business elsewhere.
That's exactly what I intend to do if one of these letters graces my mailbox. If you have received one, I'd love to hear your thoughts and what you've chosen to do.