Back in 2008 I wrote an article titled Save Money on Security Software – 5 Free Antivirus Programs Worth Using. That article is a bit dated now, mainly because of the release of a monumental free security program – a program so great that it has become an absolute "game changer" in the free antivirus world. Of course, I'm talking about Microsoft Security Essentials.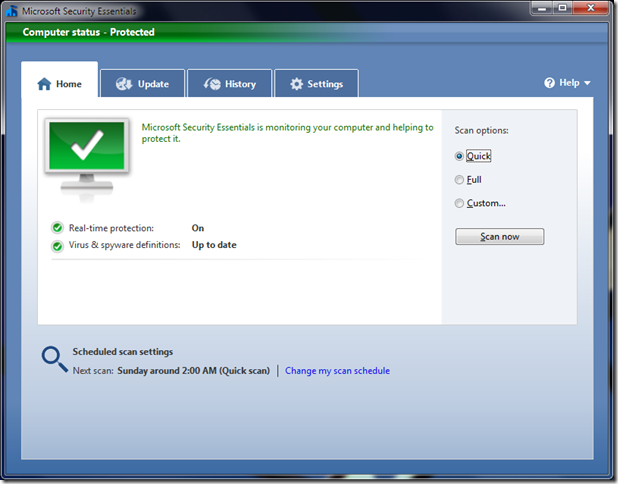 Wait, Microsoft has released an antivirus program? For free? Yes, indeed, but those are not the important questions. The most important question is: does it suck?
Fortunately, it does not. Sure, Microsoft occasionally releases a software blunder of epic proportions (Windows ME, anyone?), but occasionally they hit one out of the park, too. Software releases like Windows 7, Windows Server 2008, and Windows Live Writer have all been excellent, and I would like to add Microsoft Security Essentials (MSE) to that list as well.
MSE protects against viruses, spyware, and all the other malware baddies. Better yet, it does it without dragging the system to a complete halt like some other programs have done in the past. I've been running MSE for a couple of months now on my Windows 7 system, and in my casual experience, there's little-to-no performance impact. I can't even tell it's running most of the time.
The good news doesn't stop there, though. MSE has also earned top marks from av-comparatives.org (a reputable anti-malware testing group), showing a 98% detection rate for their database of 545k samples. In their most-recent report (October 2009), MSE was the only free antivirus program to earn an Advanced+ rating (their highest possible rating).
What does this mean? It means that if I were Norton or McAfee, I would be shaking in my boots right now. That's really the crux of the matter – there is no need to purchase antivirus software when free offerings can do just as effective a job. The big paid antivirus vendors earn their profit based on people's fear, uncertainty, and doubt. After all, paying for an antivirus program means that it must work better than a free version, right?
Wrong. That fear and uncertainty keeps the big vendors in business, and I cringe when I see people shelling out for a yearly antivirus subscription.  Stop paying for antivirus protection if you use Microsoft Windows. You are not better protected just because you paid for a program. The combination of a free antivirus program plus a little common sense is all you need.