The Sprint Employee Referral Offer (SERO) plan, much to many users' dismay, is no longer available to the general public. Instead, Sprint hopes that people will eventually upgrade to the Everything Plus Program. While it lasted, SERO offered 500 anytime minutes, unlimited texting, unlimited data usage, and unlimited nights and weekends starting at 7 PM.
The Problem
SERO is still available, but only to existing, grandfathered users. While this sounds great for those of us with the plan, the main problem is that Sprint is limiting access to certain higher-end phones. SERO users salivating over the Palm Pre or the HTC Hero (Android) phones are out of luck, as Sprint will not allow these phones to be activated on SERO plans.
While there may be a way to force one of these phones to link with SERO, it's beyond my current comprehension. If someone finds out how, please let us know.
If you're okay with a lesser phone, you can still keep your SERO plan. You can even get a serious statement credit and a phone upgrade for cheap/free.
$70 Statement Credit
Step one – follow this advice (credit goes to Slickdeals):
At 22 months you are eligible to renew your contract. When you are eligible, login to your account at sprint.com and click on the "contact us" link at the top right of the page in the black bar. If you get a security warning about the content being delivered securely, choose No. Click on the "Email us" link and choose No if you get the security warning again. Search for something like "renew contract" and if you get the security warning, choose No. Now you should finally be at the web form to submit an email to Sprint ecare. For topic select "Plans, features, and services" and for subtopic select "Plan inquires." In the text box say that you have heard that there is a $70 service credit available for renewing your contract and you would like to take advantage of that. Put your real email address in the box and then submit email. Wait for a day or so for a response and if they offer the service credit, then just reply to the email that you accept. Not everyone is eligible for the service credit so you might not get it, but worth a try.
By doing so, you will renew your SERO contract for another 24 months, and you should also receive a $70 statement credit – essentially paying for two free months! Here's the reply I received after following the above instructions to the letter:
Thank you for contacting Sprint regarding the $70.00 agreement renewal offer. We offer $70.00 service credit to our valuable customers for renewing their agreement by two years. This offer is promotional and the customers are randomly selected for this offer. Considering your valuable association with us, I have applied a $70.00 credit on your account and have renewed the contract by two years starting today. There is a credit balance of $35.30 on your account after this credit which will reflect on your next invoice. We value your business and appreciate the opportunity to address your concerns. Please reply to this email or visit Sprint.com/mysprint if we can be of further assistance.
Keep in mind that you must wait until your initial contract is within 2 months of expiration. Most existing SERO users are likely already in or near this point. When I logged into my account, I saw this: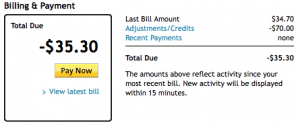 Free Phone Upgrades
Since the most awesome phones are prohibited from linking with SERO, what choices are available? A lot, actually, including some quite nice phones, such as the HTC Touch Pro2. I'm upgrading from a Moto Q, and I decided not to go for anything top of the line. Instead, I opted to select one of the free upgrades.
At this time, there are seven free upgrades available:
LG Rumor 2
Sanyo SCP-2700
Samsung Reclaim
Sanyo SCP-3810
LG LX370
Samsung M330
Motorola i776
Of those, I opted for the Samsung Reclaim, which had the best reviews at the time.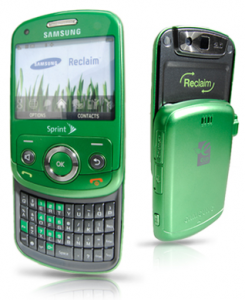 I dig the slide-out keyboard, the relatively small size, the 2.0 megapixel camera, the MicroSD expansion, and the built-in GPS navigation. Sure, there are better phones available, but I'm not the kind of guy who is glued to his phone all day. The web/e-mail access is a boon, and I'm sure I'll be totally happy with my upgrade.
Total cost: $0, including free overnight shipping.
Now I get to enjoy my SERO plan for another two years, two free months, and a free phone upgrade. I'm happy.