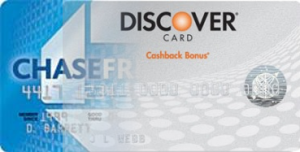 If you have a Chase Freedom card, you have likely received a letter from them touting some upcoming improvements to your account. I received my letter a little over a week ago, and I giddily responded here.
The main highlights are that Chase is tossing aside the 3% cashback scheme for set categories (such as groceries and gas) in favor of rotating categories (à la Discover). They're also nixing the current ability to cash in $200 of rewards for a $250 check, one of the primary benefits of using the Chase Freedom card.
Not long after my previous post went live, a representative from Chase's External Affairs department contacted me. She asked me to clarify a few points. No, that's not quite right. She wanted to point out some inaccuracies in the posting so [my] site and its authors have an accurate point of reference about Chase Freedom and its features.
Okay, sure. I'm the only author on this site, and I think I already have a pretty solid grasp of the Freedom card and its fall toward obsolescence. But out of appreciation (and respect) to the Chase representative, I will post her comments here.
About Cash Back
Earn 1% cash back every day, everywhere, on all purchases with no caps or expiration dates.
I originally wrote that there was no change here, and it's true, mostly. The base rate of 1% cash back rate is exactly the same as it used to be. According to the Chase representative, cash back used to expire after 36 months. Now, it never expires.
To be honest, I don't ever remember reading that Chase Freedom cash back used to expire after 3 years. Perhaps it did, so I'll concede this point, minor as it is. The bigger picture is about the unchanging 1% rate, not the expiration date. That's how the bullet point starts, after all.
The triple cash back rewards you earn on gas, grocery store and fast food purchases will no longer be available. However, there will be opportunities to earn 3% cash back in new spending categories throughout the year.
Chase offered no defense as to why the original categories are disappearing, but took offense to the obvious comparison to Discover Card, which already offers 5% cash back in rotating categories per quarter.
Chase's comment: With Discover, they typically have very low quarterly spending caps of $400, so the customer can only earn a bonus $20.  With Chase Freedom, our quarterly spending caps are at least $1200, so even at 3%, the customer can earn $36 in bonus cash back.  Also, please remember that with Discover, the customer only earns .25% on their first $3,000 in annual spend, and then 1% for the remainder of the year.   With Chase Freedom, you always earn 1% on all purchases no matter what your annual spending level is.
About the Online Shopping Portal
In the previous article, I made another obvious comparison – Chase Rewards Plus versus ShopDiscover. Both are online shopping portals that offer additional cash back by clicking through their respective sites. I also pointed out how Chase Rewards Plus has existed for a long time and therefore should not be considered a new feature or improvement of the new Freedom card. Once again, Chase offered no defense as to how Rewards Plus is suddenly a new improvement, but only to the obvious Discover comparison.
Chase's comment: With Chase Freedom, we also have merchants that earn up to 20%.  However, we wanted to give customers a more realistic picture of what they could earn, instead of touting the few merchants (such as Teleflora, Vistaprint and ftd.com) that earn 20%.  The overwhelming majority of merchants in Discover's program only earn 5%.  Discover has just over 100 merchants in their program, whereas with Chase Freedom, there are over 300 merchants participating.
About Pay Yourself Back
Pay Yourself Back – by making a purchase with your Chase Freedom credit card and redeeming it for a credit to your account.
In the previous article, I only pointed out how this is not a few feature.
Chase's comment: However, the minimum redemption amount for this item was $150 and has now been reduced to $25, so customers can take advantage of this option much more quickly.
Okay, fair enough. For people who actually use this feature, perhaps it is an improvement.
About Gift Cards
Get more of your favorite gift cards from Starbucks Coffee, Target, iTunes, and Marriott – starting at just $25.
I made no complaints about this point in the previous article, only continued to bemoan the loss of the extra $50 cash back bonus.
Chase's comment: We are now offering over 100 gift cards (instead of the limited time only 3-4 gift card choices) to choose from so that the customer has more choices when it comes time to use their Cash Back Rewards.
C'mon Chase, don't you have anything to say to your customers about the loss of the extra $50 cash back bonus for redeeming $200?
Chase's comment: ….
Mr. IM Bites Back
Here's my reply:
T##### (the Chase "External Affairs" representative),
First of all, I appreciate you taking the time to contact me. Most of your comments address the comparison of Chase Freedom to Discover, and while you raise some valid points, you've missed the bigger picture.
Frankly, I don't really care if Chase throws out the set 3% cashback categories in favor of rotating categories, nor do I care care about the "realistic picture" of Chase Rewards Plus versus ShopDiscover. As a consumer, I do not care how Chase Freedom compares to Discover AT ALL. I will use whichever card I deem best for a given situation.
What I DO care about is Chase's blatant disregard for the educated consumer. It's an obvious insult to us to remove certain key benefits and call it an "improvement." One primary reason why I applied for the Freedom card was the 3% cashback for groceries and gas. Yes, the removal of these categories stings a little, but I can live without them. I'll just use a non-Chase card for those categories now. However, calling it an improvement for me is sheer nonsense.
On the other hand, the $250 reward for redeeming $200 was another primary reason why I used this card. Now that I'm almost to the $200 threshold, you remove that feature and then try to tout it as an improvement? Ha! What an insult!
Had Chase admitted something like, "Due to an uncertain economy, we are changing the rewards structure of the Freedom card…." then I would be much more understanding. As it is, stripping away key benefits and lauding them as improvements is infuriating and despicable.
T#####, I realize that these decisions were likely not yours to make, so in no way do I hold you to blame. After all, you're just doing your job, right? Out of respect for you, I will update the article with your comments, but if you could deliver a message to your boss for me, I would appreciate it.
The message is this: Chase, you are effectively killing the Freedom card with your supposed "improvements." While stripping away features for the sake of profit is completely understandable from a business perspective, stripping away features and spinning them as "improvements" to the customer reeks of indignation and offense. Rest assured that "on or about June 30", this consumer will never again use the Freedom card.
Cheers,
Mr. IM
The Aftermath?
What do you think? Too harsh? Not harsh enough?
The overall motto here should be: don't treat your customers like idiots. If Chase had not tried to convince me that the card changes were good for me, I would likely continue using my Freedom card, but only in the way I use my Discover card – exclusively for the rotating categories. Instead, I won't use my card AT ALL come June 30.
How about you? If you have a Freedom card, will the upcoming changes affect your usage?
---