Update: read some continued commentary on this topic here.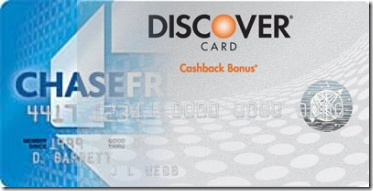 Since 2007 the Chase Freedom card has been one of my most oft-used credit cards. I like it because it gives me 3% cashback at grocery stores, gas stations, and quick service restaurants, like fast food, pizza places, and coffee houses. It was even part of my credit card usage plan for maximum rewards.
I say "was" because yesterday I received a letter in the mail from Chase. The outside of the envelope loudly boasted about upcoming improvements to the Freedom card. Uh oh. When a credit card company talks of improvements, they usually just mean for them, not for you.
And what are the supposed improvements?
Straight from the horse's mouth, with my commentary below:
Earn 1% cash back every day, everywhere, on all purchases with no caps or expiration dates.
Okay, that's exactly the same as before. No change yet.
The triple cash back rewards you earn on gas, grocery store and fast food purchases will no longer be available. However, there will be opportunities to earn 3% cash back in new spending categories throughout the year.
No longer available? How is that an improvement? Oh, right, they're replacing it with rotating spending categories. I think another company already does that, but with a 5% cashback rewards program. So, Chase Freedom is imitating Discover, but sucking at it?
Hmm, this sounds familiar as well. Once again, Chase Freedom is a lesser variation of ShopDiscover, which yields up to 20% cashback. Just for the record, the Chase Rewards Plus shopping portal is not new – it existed long before this letter arrived touting it as an improvement.
Pay Yourself Back – by making a purchase with your Chase Freedom credit card and redeeming it for a credit to your account.
Well, at least this feature is new. Nope, this isn't new, either. Thanks, Kim!
Continue to redeem for checks, which now start at $50. Note: The $50 bonus when redeeming $200 in Cash Back Rewards will no longer be available after June 30th.
AARGH! That was one of the main benefits of the Freedom card! If you saved up to $200 in cashback rewards, you could redeem it for a $250 check, therefore effectively yielding 3.75% / 1.25% cashback. Chase, please tell me how removing this extra bonus is an improvement.
By the way, the reward checks always started at $50. No change there, either.
Get more of your favorite gift cards from Starbucks Coffee, Target, iTunes, and Marriott – starting at just $25.
Okay? I'm still reeling from the loss of the $50 bonus.
On or about June 30, 2009, your account will be automatically updated with the benefits listed above. You'll receive a Welcome Kit explaining all your new rewards – and other benefits such as Purchase Protection – in greater detail.
Chase, you make me laugh. Benefits? Congratulations on being masters of spin. How hard did your employees laugh when creating and sending these letters? Did you think we (the customers) wouldn't notice?
Allow me to sum up the situation for you: Chase is desperate to save cash however they can, so not only did they slaughter the WaMu savings account rates when they took over, they're now effectively killing the Freedom card. I can't think of how a single cited improvement benefits the consumer rather than Chase itself, at least compared to how the program previously worked.
All-in-all, the major modifications effectively turn the once-mighty Chase Freedom card into a wimpy version of the Discover card. I'm very close to the $200 reward threshold, so it looks like I must use the Freedom card exclusively for now so that I can grab my $250 bonus check before it disappears.
After that, it looks like my Freedom card is destined for the sock drawer.
Here's a scan of the letter I received.