For some time now I've been considering starting an e-Commerce site, but in the last week I decided it was time to take action. The problem though, was in deciding what kind of software to use to power the site. Simply searching for something like "e-Commerce software" yields FAR too many varied results to be useful, and most of the initial offerings that I found cost money… LOTS of money.
My main requirements for building an e-Commerce site were simple:
I want the software to be easy to use.
I want the software to be FREE.
Bonus: I want the software to offer digital downloads, preferably automated.
Unfortunately, it seemed that those first two notions were diabolically opposed, as all of the software that claimed to "get me running in a matter of minutes" would also quickly separate me from hundreds, if not thousands of dollars. Unacceptable. On the other hand, the few free offerings that I found (such as osCommerce and Zen Cart) left me scratching my head, backing away slowly, and wondering if this endeavor would indeed be worth the effort. Surely there must be a middle ground!
At that point I decided to use the so-called "blogging" software that I know and love, WordPress, to power my up-and-coming site, and I must simply find a way to cram a "shopping cart" down its throat.
After many hours of searching, configuring, testing, and swearing, I ultimately settled on four potential solutions. All of these options are FREE, though some of them offer "paid" upgrades.
Option 1: WP e-Commerce Plugin
WP e-Commerce is the most visible option for setting up a shopping cart. As a plugin for WordPress, installation and configuration is fairly simple. A few of the purported features include:
Unlimited product and category listings
A cart that shows slick "alerts" when products are added
Support for "downloadable" files, such as e-Books
Integration with PayPal
WP e-Commerce was the first shopping cart option that I tried, and I had high hopes for it, but ultimately I was quite "underwhelmed." Sure, listing products was easy, and the tight integration with WordPress was nice, but a number of bugs led me to quickly abandon it. For instance, I never did get the "download file after purchase" option to work correctly, nor could I remove a file once I listed it as a "downloadable" option. A quick look at its support forums yields far too many issues for me to put my trust in it. In the end, WP e-Commerce had the most promise, but delivered the least. I sincerely hope it improves in the future.
Option 2: FatFreeCart
Released for free by e-junkie, FatFreeCart is a novel idea: no installation, no significant coding knowledge needed, yet it maintains a perceived integration with any site. FatFreeCart will easily work with WordPress, but since it needs no installation, it will work on ANY site (even those ridiculous social networking sites like MySpace).
To operate it, simply copy a snippet of code, modify the values to match your needs, and insert it by each product that you want to sell. Here is a working demo. Note: Please don't actually buy this product listed below. It doesn't exist.
EDIT: Nevermind, the FatFreeCart doesn't work too well with my current WordPress theme, but that's a personal problem. See their site for a functional demo.
Pretty neat, huh? I especially like the integration with both PayPal and Google Checkout. I almost decided to use FatFreeCart with my site-in-progress, but ultimately decided against it for perhaps a silly reason: the actual software powering the FatFreeCart resides on e-junkie's server, and if their server ever goes down, my shopping cart ceases to exist. I'm not sure I'm entirely comfortable with that. Plus, it doesn't allow for "downloadable" items, which is a selling point for me.

Option 3: Mercantec E-commerce Express
In a similar vein, Mercantec's "express" offering is a free 3rd-party integration that will work with most any site, whether or not it is powered by WordPress. Like FatFreeCart, much of the configuration is done outside of your regular web site. With Mercantec, you create an account with them, then add items, determine shipping, track orders, and setup payment gateways all on their site. So once again, if their server goes down, your customers will not be able to give you money.
Truth be told, I like the free Mercantec offering so much that I'm willing to forgive that aspect. I appreciate that they offer both PayPal and Google Checkout, and I enjoy the plethora of item options that are available, as well as the ability to create many options/prices for shipping. Here is a screenshot of basic item creation: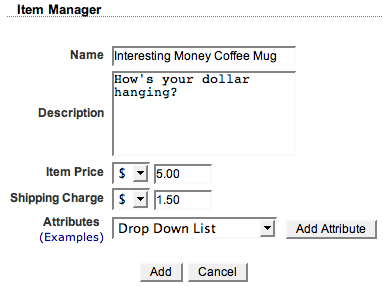 Actual integration of the shopping cart only requires generating a few snippets of code and adding them to the desired location on your site. Once again, I almost decided to solely use the Mercantec offering, but it currently lacks support for "downloadable" items. If I had tangible items to sell exclusively, this would be my choice. For what it's worth, I e-mailed them and requested the option to allow for file downloads, and a few hours later I received this response:
Thanks for your feedback…. We have received several requests to support the downloading of digital goods once an item has been ordered. We have added this to our feature
request list and will strongly consider it when we plan our next release.
In other words, keep your eye on this one.
Option 4: YAK for WordPress (Yet Another Kart)
The final option is YAK. Despite its strange name, I have found it to be quite promising. Of all the options listed, YAK is the only one that is open-source, meaning that the source code is available for anyone (with the know-how) to scrutinize.
Just like WP e-Commerce, YAK is a plugin for WordPress, meaning that installation is simple, but the initial configuration requires some setup time. None of it is particularly difficult, but the actual integration requires that you insert tiny snippets of code and the setting of custom fields to allow for certain functionality, such as the addition of "Add to Cart" buttons and the display of prices. With YAK, each item is listed as a post, meaning that the items are easily "searchable" from the standard WordPress search box. Nice.
Here is a picture of a very simple YAK post in action:

YAK includes a multitude of configuration options, though the only current payment gateway offered is PayPal. I would desperately love to see integration with Google Checkout. And before you ask, yes, YAK allows for the automatic downloading of files after purchase. I've tested it, and it works well.
If you can't tell, I decided to use YAK for my e-Commerce site-in-progress. Part II of this series will detail the initial configuration of WordPress and YAK. Stay tuned.
Update: Part II has been posted.
If you enjoyed this article, please subscribe for future updates.