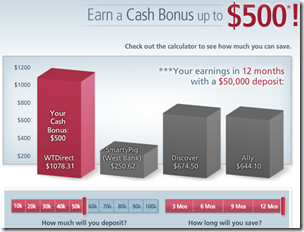 WTDirect Savings is currently running a promotional offer in which you can earn up to a $500 bonus. The bonus is easy to earn, but the potential hurdle is that you need a chunk of existing cash in order to earn the full bonus.
Earning the bonus is simple – for each $10,000 that you deposit, WTDirect will give you a $100 bonus, up to the total bonus of $500. You need to open and fund the account by June 15 and maintain the initial deposit(s) for three months in order to fulfill the requirements.
The fine print:
This offer is available to new WTDirect clients only. Primary account holder must NOT have held a WTDirect account in the past 12 months. WTDirect account must be opened and funded via electronic (ACH) transfer received by 6/15/10. Bonus is based upon the lowest daily balance during the promotional period of 6/15/10 – 9/15/10. Bonuses will be paid approximately 2 weeks after the end of the promotional period to clients whose accounts are open and in good standing. Wilmington Trust employees and their family members are not eligible. WTDirect reserves the right to cancel or modify this promotion at any time without notice.
That last line is troublesome, and in the past WTDirect cancelled a similar promotion after only a few days. So, if you're interested in taking advantage of this offer, do it quickly. I opened an account this morning, though I will have to settle for a lower-tier bonus since I don't have that much cash lying around. 🙂
Keep in mind that the bonus is on top of the existing savings rate, which is currently 1.16%. If you deposit $50k and earn the full bonus, this works out to just over a 5% savings rate over a three-month period. Not bad! Their application implies that they do not do a hard credit inquiry.
I'm not sure if I'll keep my account open after the bonus is fulfilled, but I definitely enjoy offers like this!