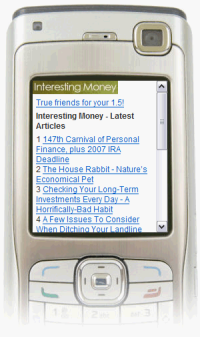 Ever since I got my MOTO Q through the Sprint SERO plan, I occasionally find myself surfing the web and checking e-mail with it. I've since discovered that a lot of websites look TERRIBLE when viewed with a mobile browser. Yes, I'm ashamed to admit, my own website was one of those. 🙂
No longer! Gadget lovers, you can now read my latest entries by pointing your mobile browser to:
http://m.interestingmoney.com (no www)
Don't have a mobile browser? That's ok. Go ahead and click that link in a regular browser. You will see a slick demo of exactly how the site appears on a mobile phone. There's even an illustrious iPhone preview.
For those interested, I set up the mobile version using the free MoFuse service. Essentially, all you have to do to create a mobile version of your own blog is to create an account with them and give them a link to your RSS feed. They handle the rest, including automatic image resizing (no more horizontal scrolling).
MoFuse even has a revenue-sharing program. In exchange for their service, they split your AdMob or Mobile Adsense impressions in a 50/50 ratio. Considering that it only took me about 20 minutes to get my mobile site running, I'm fine with this.
There are a few other similar services available, such as Mippin Maker, but I ultimately went with MoFuse because I liked the resulting layout better. If you have a self-hosted website or blog, I encourage you to create a mobile version, no matter what method (or service) you choose to create it.
By the way, TipsFor.us has a neat article on setting up an automatic Contacts and Calendar sync for Windows Mobile phones using Thunderbird and Google Calendar, all for free. It's a fairly-intense setup, but it could save you a few hundred dollars if you dislike (or can't afford) Microsoft Outlook.