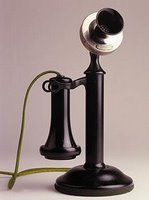 That's what I just found out, anyway. Since my wife and I just got cell phones through the Sprint SERO plan, we decided that we no longer need a landline, especially since it costs us more than our DSL Internet.
I was afraid that convincing AT&T to drop our landline would be difficult, but it was actually quite easy. While searching their site, I came across this page offering Internet plans without a phone line. Of course, you cannot just sign up online, but there IS an 800 number to call for more information.
So, I called the number, though I admit I was bracing myself for someone to endlessly elaborate upon the benefits of keeping my landline available. To my surprise, the conversation basically went like this:
Me: Hi, I want to drop my landline and keep my DSL.

AT&T Rep: Ok, let's do it!

Me: Really? Awesome!
Of course, the phone call took longer than that, but most of it was simply re-entering my data as a new account. Since I already have existing DSL service with them, I was able to avoid all the one-time setup charges and equipment fees. My Internet connection is simply supposed to go down this coming Monday and reappear the next day.
Here are the prices for standalone DSL that she quoted me:
Basic (768 Kbps) – $20 a month (contract required)

Express (1.5 Mbps) – $30 a month (no contract)

Pro (3.0 Mbps) – $34 a month (no contract)

Elite (6.0 Mbps) – $39 a month (no contract)
I currently have the "Pro" level, and I opted to keep the same speed. It is a slight price increase from what I have been paying, but my overall bill will now be roughly $20 lower each month. Nice!
I tried to haggle a bit with the CSR, but to no avail. I thought about flirting, but decided that it may actually cause the price to increase! 🙂
Availability?
One thing to consider – the CSR first had to verify that DSL Direct was available in my area. Luckily, it was. Of course, your mileage may vary.
The only question I have is whether or not AT&T's standalone Internet plans are available for customers who do NOT already have a phone line with them. A friend of mine claims to have called and been turned down for Direct DSL because he did not have an existing phone with them, but I'm just wondering if this is the norm, or if he just talked to a clueless CSR.
I admit, I'm pretty excited to finally ditch my landline for good. Now, if only America's average broadband speed could keep up with parts of Europe and Asia! 🙂