(UPDATE: There's a newer version of this article here – Opening a Roth IRA with No Minimum)
A reader recently asked me about starting a Roth IRA with a minimal opening amount (less than $500), and I think it's a good question. Most of the major companies expect you to have a substantial initial investment (usually 2-3k), so what can someone who doesn't have that much do?
It doesn't seem fair to indirectly punish someone who currently makes little money from taking advantage of tax-free growth. For example, suppose a full-time college student with a part-time job hears about the benefits of a Roth IRA, but can't scrape together the initial investment amount to open an account at a place like Vanguard or Fidelity. What then are his/her options?
Option 1 – Keep Saving
Of course, you can just keep saving a little bit every month until you DO reach the required minimum at your company of choice. Scheduling an automatic weekly or month transfer into an online savings account can help. You can even try taking advantage of a few bank or credit card sign-up bonuses to help expedite the process. Once you reach $1,000, your choices begin to broaden.
Option 2 – Local Banks
Another option is to visit a few local banks and ask about opening a no-minimum IRA. Many banks offer IRAs that utilize a money market or a CD. One disadvantage is that you may only have a short "window" each year in which you can invest additional cash. Plus, if you are young, a CD or money market is a very conservative investment. A mutual fund is better more suitable if you have decades to invest before you retire.
What then, are some choices involving mutual funds?
Option 3 – Fidelity
Minimum required to open an IRA: $2,500
Minimum requirement waived if you agree to a $200 per month automatic transfer.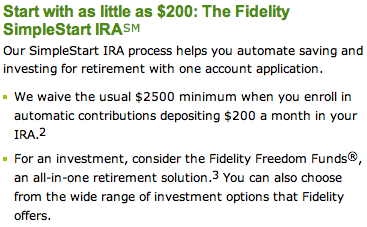 As you can see, Fidelity requires a pretty steep commitment to open an IRA, but offers a SimpleStart option that waives the minimum amount. This feature is nice, but our example college student may not be able to scrape together $200 every month. However, if you can afford this monthly transfer, Fidelity is a great choice. Otherwise, let's look at some alternatives, shall we?
Option 4 – T. Rowe Price
Minimum required to open an IRA: $1,000
Minimum requirement waived if you agree to a $50 per month automatic transfer.

T. Rowe Price's IRA offerings are a little more suitable to those with a small initial investment, although the $1,000 minimum is still higher than desired. However, if you can afford the $50 per month automatic transfer, T. Rowe Price is another great option. I suggest looking into their SmartChoice IRA Funds, which are targeted toward a specific retirement year.
Keep in mind that T. Rowe Price charges an annual custodial fee of $10 for all IRAs that have balances lower than $5,000.
Option 5 – ING Direct
Minimum required to open an IRA: $250
Minimum requirement reduced to $25 if you agree to a $25 per month automatic transfer
Now we're talking! Due to their recent acquisition of ShareBuilder, Capital One 360 has recently started offering mutual funds and retirement accounts, and the $250 minimum is ideal for someone starting a Roth IRA on a budget. If that amount is still too high, you can open an account for as little as $25 if you agree to a $25 per month automatic transfer. Even a college student with a part-time job should be able to afford that!
All is not well in the land of ING, though. For starters, they charge a $10 annual custodial fee on IRAs, no matter how much you have invested. Not only that, the expense ratios on their 15 funds are higher than average. As of this writing, the expense ratios range from 0.61% (Money Market Fund) to a whopping 1.75% (Global Science and Technology Fund)! Not sure what an expense ratio is? See here.
Don't let me dissuade you. This would be a fine "starter" account, but I would consider transferring to a different company with lower expense ratios once you have accumulated $2,500 or more.
Option 6 – E-Trade
No account fees or minimums (when you sign up for online statements and confirms)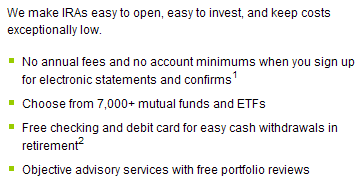 And here we have what is perhaps the best deal yet. E-Trade offers the option to start an account with no minimum, provided you agree to receive all communication online rather than through "snail" mail.
E-Trade has a massive amount of funds (over 7,000), and there have been worries about bankruptcy, so this choice may be intimidating for a beginning investor. Still, considering that there is NO minimum, it is a viable choice provided that you are willing to do your homework in deciding which funds are right for you.
If in doubt, I suggest going for one of the no-transaction fee, low-expense ratio funds, such as their S&P 500 Index Fund.
Other Thoughts
Of course, this list is not comprehensive, as there are many other options and companies available. No matter which option you choose, contribute as much as you can, and your nest egg will continue to grow tax free.
My own IRA is currently held at Vanguard, but the initial investment minimum for most funds there is $3,000. The only exception is the STAR Fund, which requires only $1,000. Once you reach the 3k threshold, you may consider transferring to Vanguard, as it is a solid company with consistently low expense ratios.
Of course, my disclaimer is that I have attempted to provide entirely accurate information, but please make sure to do your own research before investing. I hope that the information I provide is valuable, but please leave a comment below if you find an error or would like to suggest another offering. We can all benefit from that knowledge.
Happy investing!
If you found this article helpful, please subscribe to receive future updates.