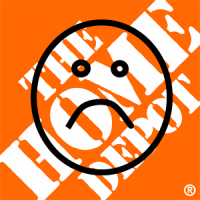 Last week my wife and I decided that it was finally time for a new hot water heater. Our current unit is over 20 years old, and though it produces hot water, it is fast to run out (especially in the winter). We've lived in this house now for about two years, so the existing unit was already here when we bought the house. Thanks to $400 in Home Depot gift cards that we had accumulated from credit card sign-up bonuses (thanks Citibank!), we decided to purchase the heater and the installation service from Home Depot. And that, my friends, is where our problems began!
The Purchase
At Home Depot, we selected a 40-gallon, natural-gas unit and opted to purchase the installation service. Thanks to the gift cards, we only had to spend just under $200. Here we encountered the first problem: the hidden fees in the installation service.
Here's the scenario: if you purchase water heater installation service from Home Depot, they will sub-contract the job out to a local plumber. In my town, the advertised price for installation reads, "starting at $230." However, once you reach the Home Depot counter to pay for the installation, they WILL add at least $70 in mandatory fees! For EVERY installation, they WILL add:
$35 for a water inlet shutoff valve (which is refundable only if the sub-contracted plumber tells you he doesn't need it), and
$35 (or more) for a "permit" that the plumber needs for each installation
My question is, if they require an additional $70 for EVERY installation, why not advertise the starting price for installation as $300 rather than $230? Or, if they insist on using their skewed system, why not advertise the installation service as "starting at $10″ (plus $290 in mandatory fees)?
Despite the sneaky hidden fees, we begrudgingly went ahead with our purchase. Hey, we had to use those gift cards somehow.
The um… Installation?
Despite Home Depot's promise of "same-day installation service" (which is an outright lie), it took several days for the installer to arrive with the hot-water heater. He was a nice, down-to business kind of guy, but as soon as he saw our existing water heater, he told us point-blank that there was no way he could possibly install the new heater to regulation code. The problem, it seems, is that there is not a drip pan underneath our existing heater (which is 20 years old), and that there is not enough room to add a typical, 27-inch drip pan and still be able to close the door to the room. Whoever designed the room (in the 1960s) must have been tripping on acid, since there are numerous layout issues that now prevent the proper installation of a hot-water heater.
The installer was a nice, jovial guy. He apologized and told us to go to Home Depot and request a refund. Then he left. Oh well. Replacing our water heater is going to be MUCH more difficult than we originally planned, but it makes sense now why the current unit is so old – the former owners simply did not want to deal with it. Now we are stuck with the problem, and the home inspector did not notice it when we bought the house.
We'll have to deal with it later. In the meantime, let's try to get our refund from Home Depot, shall we?
The Fight for a Refund
A few hours after the installer left, I paid a visit to the dreaded Home Depot. Paperwork in hand, I marched to the counter, explained my story to the orange-aproned cashier, and waited patiently while she consulted a higher power.
A few minutes later she returned and said, "We can give you a refund, minus $75 for the installation service." Utterly confused, I demanded to know why I could not receive a full refund. Here is the explanation I received:
We (Home Depot) have to pay the installer a "trip" fee for showing up, whether or not he completes any service, so we pass the fee on to you (the customer)."
Trying to keep my cool, I let the orange-plaid cashier know exactly how much that policy stank. Why should I get sandbagged with a hefty fee because the installer could not perform the service? Why isn't this notice written anywhere on my documentation? And just what is this obsession with the color orange anyway?
After my tirade, the orange-embroidered cashier said, "Would you like me to call a manager?" Yes, I would.
Amy, the smiling manager, arrived and attempted to enlighten me on what a "trip" fee is and why I should just shut up and pay it. Naturally, I embarked on another discourse on why saddling me with a $75 fee is completely unfair. Had I chosen to return the unit, I would gladly eat the fee, but since I would love to have the unit (and the installer CAN'T install it), Home Depot should eat whatever extra fee they have suddenly conjured.
The battle raged for several minutes, neither of us gaining any ground. In the end, Amy (ever-smiling) negotiated a treaty. "What if we split the fee in half, $37.50 each?" she inquired. Ready to get this mess over with, I accepted. Had I planted my feet and really made a scene, I probably could have gotten her to wave the entire fee, but I didn't. Maybe it was her smile, or maybe the overpowering orange influence was curbing my hostility.
The Aftermath
The charge on my credit card has been reversed, and my gift cards have been returned as store credit (minus $37.50 of course). I'm still without a new hot water heater, with no easy way in sight to have a new one installed. While I ponder my options, I cross my fingers with hope that our ancient water heater will keep working happily.
Is there a moral to my story? Yes, dear reader. Do not purchase any type of installation service from Home Depot. They will no longer receive any business from me, at least not until they acknowledge their "hidden" installation fees. They must also provide written AND verbal documentation that refunds on services will require a $75 fee whether or not the installer is able to do anything. The current method of springing fees on the customer at the last minute without prior notification is not acceptable.
Frank Blake, are you reading this?