I admit, I use credit cards a lot. To me, it's much simpler than writing a check, and I tend to carry very little cash. Plus, you can earn rewards from the credit card companies. Yes, I'm one of those people who whips out a card to buy a coffee refill for 85 cents. 🙂
However, I don't just use whichever card I grab first. I usually carry three or four cards in my wallet, and use whichever one offers the highest reward for the particular category of my purchase. The following is my current plan of attack, which works well for me. Feel free to create your own Variations on a Theme. All of the cards mentioned below have no annual fee.
1) Capital One Cash Rewards – earns cashback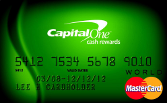 Rewards: earn an unlimited 1.5% cashback on all purchases.
This is my default card for use in all general spending. No, it isn't the sexiest card out there, but by gosh, its reward program is reliably simple. Every purchase earns 1.5% cashback; no spending tiers or reward caps. The way it works is that you first earn 1% cashback on all purchases, and then on your card anniversary date they'll kick in a 50% bonus on your earnings – totaling 1.5% overall.
At present, there's also a $100 bonus if you spend $500 within 90 days of acquiring the card. This is also my default card for when I travel as Capital One does not charge a foreign transaction fee. Nice!
2) Citi Forward – earns Thank You points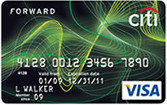 Rewards: earn five Thank You points for every dollar you spend at restaurants (including fast food), bookstores, music/video stores, and movie theatres. All other purchases earn one point per dollar spent.
For any of the above spending categories, the Forward card from Citi is a great option for racking up points quickly. I use it primarily for restaurants and bookstores, and since Amazon.com falls under the category of bookstore, all purchases from Amazon earn 5 points per dollar spent! This is equivalent to 5% cashback or more, if redeemed properly.
At present, you can earn 10,000 bonus points after making $650 in purchases and signing up for electronic statements. You can also earn 100 bonus points for paying your statement on time each month ($1 value). Not bad.
Thank You points are redeemable for travel or for gift cards to a multitude of stores, such as Bed Bath & Beyond or Old Navy. One nice thing about the Thank You network is that the points are not exclusive to the individual Citi card. Rather, you can aggregate all of the points you earn from multiple Citi cards into one account by listing the separate sponsor accounts. I have all four of my Citi cards linked to one Thank You account.
3) Discover it™ – earns cashback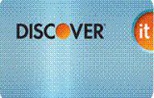 Rewards: earns 5% cashback in rotating categories; otherwise, 1% on all purchases.
Discover is my oldest credit card, and I use it exclusively when I can earn 5% in whatever rotating category is currently active. The categories are often the same each year. Here are the categories for calendar year 2013, as an example:
January – March: Restaurants and Movies
April – June: Spring Style
July – September: Summer Fun
October – December: Holiday Shopping
You have to remember to sign up for each category, but that only takes about two clicks on their website. Redeeming cashback is simple enough: You can redeem at any amount directly on Amazon.com, or you can build up $50 and earn a statement credit. If you don't want to wait that long, you can always redeem for a store gift card starting at $20, and often with a little bonus, such as redeeming $20 for a $25 gift card.
4) American Express Blue Cash Everyday – earns cashback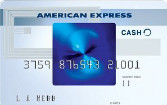 Rewards: earns 3% cashback at grocery stores, 2% cashback at gas stations and department stores, and 1% on all other purchases.
If the bulk of your shopping takes place at grocery stores, department stores, and gas stations, the Blue Cash Everyday is a great primary usage card. Once you earn $25 in rewards, you can redeem for a statement credit. There's currently a $100 bonus if you spend $1,000 within the first three months of membership.
If you spend a lot in these categories, you should consider the Blue Cash Preferred, which has a $75 annual fee but also earns twice the rewards (6% grocery, 3% gas and department store, 1% everywhere else). This one also currently has a $150 sign-up bonus offer – enough to cover the annual fee for two full years. My wife tends to do the bulk of the grocery shopping, so she carries this card.
I always have an AMEX in my wallet – for shopping at Costco, if nothing else. They gave me a very generous credit limit, for the record.
Summary
So there you have it: one MasterCard, one VISA, one Discover, and one AMEX. With proper usage, you can net a solid 2% cashback or more for most/all of your spending. Are the cards I list the best ones available? Maybe. Maybe not. You may find a card with slightly higher percentages. However, for cards with no annual fee, these are good choices.
If you enjoyed this entry, please subscribe to my feed for future entries and articles.